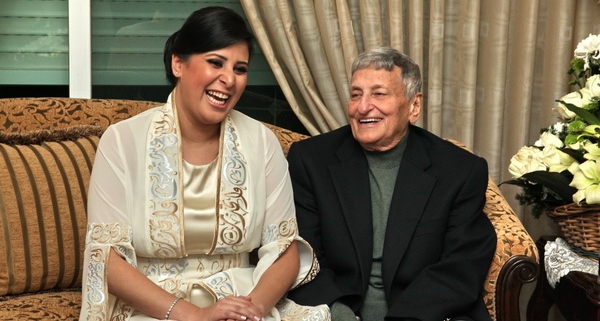 It's been two weeks since you passed away! Life has an unfair way of driving us back to our daily routine. Wake up, give Hana breakfast/prepare her lunch box, send her off to pre-school, pick her up for lunch, then head home to mmom's for lunch, only this time you aren't there. Stay till 4:30 and leave. Play with Hana till bed time around 8:00, and then call it a day. REPEAT!
I haven't written for quite a while now, and I wish that I had, every time I wrote a new post you'd call me the next day to talk about it or discuss – which really makes me feel like I should've written more, I would've loved to hear your opinion.
Losing a parent is a morbid feeling that I wouldn't wish on my worst enemy! I've seen friends and family lose a parent, and I've seen how life one way or another has managed to move on, but to experience this first hand is something else.
It's only been two weeks, and I feel the minutes that have put us apart like yesterday. Your pulse had weakened, your hands felt cool, and then there was no pulse, and it took a few seconds for it to register, but when it did, I just kissed your forehead, told you that I loved you and that I missed you already. I was told that after a person passed, they are clinically dead for 6 minutes before they are biologically dead. I don't even know how much I can think into this, but I would love to believe that you heard me utter the words because it's true.
I've been holding strong for a while now, I don't think because it's you passed with old age and because I merely have to deal with it, I just really would rather suffer than see you suffer. You've had a beautiful 86 years, you were loving, giving, compassionate, and full of wisdom, to see you suffer from multiple organ failure broke my heart every day when I visited you at the hospital, I was praying hard for a miracle to stop your pain, and while my prayers haven't been answered in terms of a cure, I believe they have been answered by giving you an eternal resting place.
Regardless of my level of strength, I know I am strong because of you, because you wouldn't have it any other way, because you had told me how proud you are of having a daughter like me, and that gives me peace of mind, it hasn't given me closure yet, but it makes me content. As the days go by, I am learning that it's not as easy as people make it seem to be, and regardless of how great your life way, regardless of how old you were when you passed away, losing a parent is difficult.
I speak about you so lovingly, every single day. I always have a story to tell, an incident to share, or a memory that would brighten my day. I share those stories with everyone, because they make me smile, they make me remember the father I've known, and they take away the anger of losing you one story at a time.
I am proud to have been your daughter, you were a great man! You were a great husband to mom, a wonderful grandpa to Baby Hana, and an awesome dad to me! You were my confidant at all times, a friend regardless of the age gap who just knew what to say every single time. Thank You Baba for being part of my life for the past 30 years, I can't imagine having another person as my BABA! You're that special, and you will be missed.
I hope I am not letting you down by not visiting your grave site, I am just not ready for that part yet, but I promise the moment I am, I'll come over, with a bar of Cadbury Milk Chocolate and your backgammon that I brought home today. I'll tell you stories and beat you at your own game at backgammon, because after all, I was taught by the best teacher in the world!
I love you habibi. RIP!
http://larahadi.com/wp-content/uploads/2017/03/laval197.jpg
400
600
Lara
http://larahadi.com/wp-content/uploads/2018/03/LaraAbdulhadiLOGO-300x152.png
Lara
2017-03-10 17:03:57
2017-03-10 17:03:57
Baba…