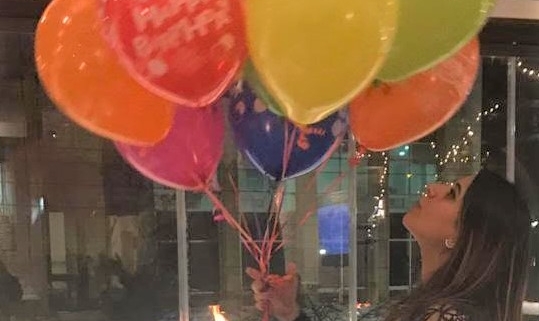 Life is a roller coaster; time passes by so fast you feel like a hamster on a wheel. I feel in the short 32 years that I've lived so far that I did it by the book, so here is to a year where I should go with my gut instead. I did my dues, earned a bachelor, earned a masters, went up the corporate ladder and advanced my career, quit and started my own, got married, had kids, the whole nine yards. What's next? Here are a few thoughts:
[1] I ALWAYS FEEL THAT I AM NEVER GOOD ENOUGH FOR MY DAUGHTERS, but that's OK because being a mom isn't an easy job. I have been spending more quality time with both Hana and Ayah with activities here and there and cannot wait for the summer where we can go wild outdoors. I am sure that I will get better as time goes by, and for what it's worth, all that matters is that I'll be able to tell them that I tried my best, because that's good enough.
[2] MY LINE OF BUSINESS COMES WITH A LOT OF CLIENT SERVICING, MY NEXT VENTURE IS ALL ABOUT GIVING BACK, I am one of billions, alone I am weak, together within a community I am strong. I want to fund our future, empower the world, and create sustainability for a better world when I'm gone. Giving back can create a vibrant social community, and I am ready to empower and get empowered.
[3] I WILL CONTINUE TO ENHANCE MY CULINARY SKILLS, I am not chef mind you, but let's face it, I pretend to be, because deep inside, there is something so gratifying about creating a meal from scratch, no short cuts, touching, feeling, and smelling raw food and turning it into a delicious meal. We live in a world where food prep has become a burden and take out and frozen selections have become dominant. I feel that easy cooking is a responsibility, from changing perception to preparing the meal, I want to be a culinary activist, I want to promote better habits for all. Because cooking is not that hard, it's as effortless as it can be.
[4] KINDNESS IS NOT AN ACT, IT'S A LIFE STYLE! Those words are words to live by, I feel that humans have forgotten humanity, and that kindness has become so rare. Kindness doesn't cost a thing, but is worth everything. BE MORE KIND, your children will thank you, will learn from you, and together we can build a kinder world.
Here is to turning 32, and holding myself accountable to all of the above for the next year and for a lifetime to come.
http://larahadi.com/wp-content/uploads/2018/12/Lara32.jpg
719
539
Lara
http://larahadi.com/wp-content/uploads/2018/03/LaraAbdulhadiLOGO-300x152.png
Lara
2018-12-16 11:21:33
2018-12-20 11:28:42
Hello 32!