A wife, mum, and food activist who aims to inspire healthy living practices, blogs about helping other parents redefine parenthood.
On my blog you will find easy recipes that are simple so you and your family can create and eat delicious food at home, even if cooking isn't your thing. You will also find some posts inspired by my kids Hana and Ayah and some of our activities out and about.
Everyone in a while you will see a review about a product or a restaurant that we've tried. YES, I do encourage all of you to cook at home and to identify the sources of your food, BUT THEN AGAIN, who am I kidding, people do dine out, you get invited, you go out with your friends or spouses for dinner, but you will notice that most reviews do not come from junk food or fast food restaurants. Today, life is busy.
I'm thrilled that we've connected, thanks for stopping by my blog. Don't be a stranger and come back frequently…
Empowering Women Through Cooking Contributor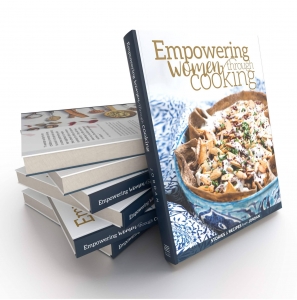 I've contributed a "made with love from the freshest ingredients" recipe to 'Empowering Women through cooking – Jordan' 
Get your copy today knowing that a part of the proceeds World Food Programme and Tkiyet Um Ali.