The easiest way to have a flavorful and delicious restaurant-style dinner at home in just about 30 minutes! Serve with rice and enjoy.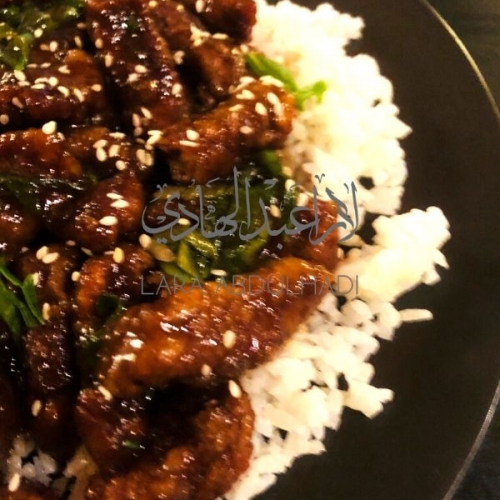 Mongolian Beef
Crispy homemade version that's less sweet and packed with flavor.
Ingredients
500

grams

roast beef cut into thin slices

2

TBSP

Rice vinegar

1

TSP

Salt

1

TSP

Black Pepper

1

TSP

Garlic Powder

1

TSP

Ginger Powder

4

TBSP

Corn Starch

3

Spring Onions, cut thin
Sauce Ingredients
1

TBSP

Sesame Oil

4

TBSP

Low Sodium Soy Sauce

2

TBSP

Packed Brown Sugar

1

Minced Garlic Clove

1

TSP

Freshly grated ginger
Instructions
IMPORTANT:

The most important step in this recipe is to make sure that the beef is at room temp. Coating and frying the beef straight out of the fridge will not give you the expected results.

Cut your beef thin, a few mm per slice. Or you can order it very thinly sliced when you buy it from the butcher, that's how I have it done.

Mix the rice vinegar, salt, pepper, garlic powder, and ginger powder. Season the beef with this mixture and let it sit for 15 minutes to soak in the flavors. While the beef is soaking I like to prepare my sauce and this includes cutting the onions.

Toss the marinated beef in the corn starch and coat well.

Heat your wok and add sesame oil mixed with vegetable oil. Cook the beef until crispy. You want to fry in batches and not over crowd your wok if using a small one. Drain excess oil in a colander.
For the Sauce
Mix soy sauce, brown sugar, corn starch, and sesame oil in a bowl - set aside.

In the same wok that you used to cook the beef in - add garlic and ginger and cook for a few seconds until fragrant.

Pour in the sauce ingredients and mix, and allow to cook until it bubbles, mix the beef back in and toss with the sauce.

Add the spring onions, give it a final toss and serve with rice.
Notes