The national dish of Libya is couscous, it is served with chicken or lamb. My mom and dad lived in Libya in the 70's and have made this dish frequently for their friends while entertaining and during special occasions. It's very easy to make but it a time consuming process. For those who love it it's totally worth the time invested.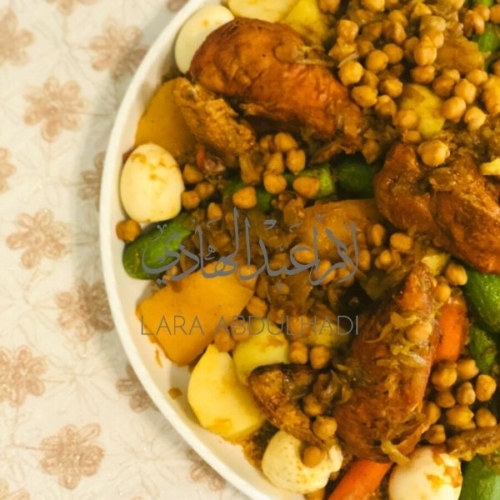 Libyan Couscous
This authentic Libyan couscous dish features your choice of chicken or beef, pumpkin, humus and other vegetables tossed in a spicy sauce.
Ingredients
1

Pack Couscous

1

Cup

Hot water

1

TSP

Salt

½

Cup

Olive Oil

Choice of 1 KG of meat or 1 Chicken

50

grams

butter

Orange Blossom Water

Approximately the size of a Turkish coffee cup

2

TSP

Cinnamon
Sauce Ingredients
1

KG

Onions slivered

1

TBSP

Tomato Paste

2

TBSP

Red Chili Powder

1

Green Onion deseeded

3

TBSP

Turmeric

350

chick peas soaked overnight
Toppings
Boiled Eggs

Boiled Potatoes

Boiled Zucchini

Yellow Squash
Instructions
Soak chick peas overnight. Drain and wash.

Mix the couscous with salt, water, and olive oil, rub it well between the palms of your hands and let the mixture set aside for one hour.

For this recipe it is recommended to use a steamer pan as the couscous cooks over the steam and not in stock. If you don't have one fill half a pot with water and top it with a colander but add the juice of half a lemon.

Bring the water to boil and then add the coucous and let it cook over steam for 45 minutes.

At this point fry your chicken or meat until cooked from the outside but still raw from the inside. Set aside.

Meanwhile, prepare your stock by cooking your onions in some vegetable oil, then add tomato paste, chili powder, green pepper, turmeric and the rinsed chicken peas. Add your chicken or meat and allow to cook until well done.

By now the 45 minutes of your couscous have elapsed. Take it out and place it in a bowl and add half a cup of the prepared stock. Make sure to scoop from the top of the stock pan not the bottom.

Mix well and return the couscous to the steamer pot to cook for another hour.

When it 'ready take out the now fully cooked coucous and mix in the flower water and cinnamon and butter and mix well until the butter melts.

Arrange in serving dish. Dip your side vegetables in the sauce and arrange on top or on the side of your couscous.

Serve the sauce on the side.
Notes