Hummus is an incredibly popular Middle Eastern dip and spread.
Not only is hummus delicious and cheap to make , but it is also versatile, packed with nutrients and has been linked to many impressive health and nutritional benefits.
It s a super nutritious food packed with plat based protein which makes it a nutritious option for vegans and vegetarians.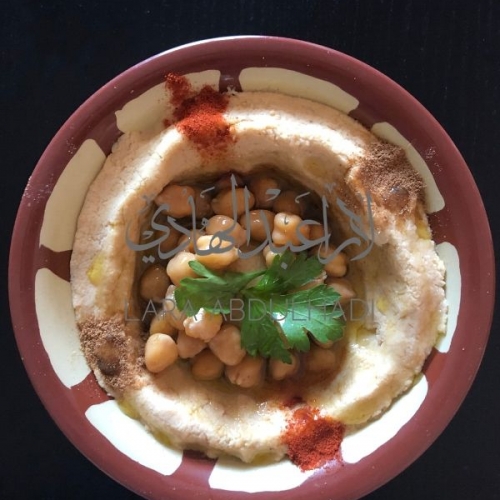 Homemade Humus
Hummus is an incredibly popular Middle Eastern dip and spread. It is typically made by blending chickpeas (garbanzo beans), tahini (ground sesame seeds), olive oil, lemon juice and garlic in a food processor. Chickpeas are cheap and store well in your pantry so making humus from scratch at home is easy and cost effective. Once you make a home version you'll never go back to store bought again.
Ingredients
Preparation
2

Cups

Chick peas

1/4

TSP

Baking Soda
To make creamy Humus
1

Lemon Juice

approximately ¼ cup

1

Garlic Clove

Optional

1

TSP

Cumin

1/3

cup

Ice Cold Water

+ another 1/4 in case we need it

1/2

cup

Tahini

divided (1/4 + 1/4)

1

TSP

Salt
Garnish Ingredients
Cumin

Paprika

Chick peas

Parsley Leaves

Olive Oil
Instructions
Soak the chickpeas overnight in 1/4 tsp of baking soda. Rinse in the morning.

In a sauce pan, add water and the chickpeas and bring to boil until tender. You can use a pressure cooked to reduce the boiling time and get great results if you have one.

Remove chickpeas, draining before adding them to your food processor. Leave some aside for garnish.

In a food processor, add lemon and salt, and pulse until ingredients come together.

Add chickpeas and pulse until the mixture crumbles then add water and pulse again.

Add tahini, cumin, and salt, and garlic if using, and pulse again.

If you want a creamier texture you can add more water and tahini until it comes together to your liking

Garnish to your liking. You can add lemon wedges, parsley, pomegranate. Paprika, cumin etc…
Notes
Want Humus that tastes just like store bought ones? It's going to take effort but it's totally worth it! Peel the beans after you boil them. 
If you have crushed ice that would work but you can use ice cold water if you don't have crushed ice as not to ruin your food processor