The first time I tried this recipe was when my friends son turned 1.
I showed up uninvited to her house in the morning offering a helping hand. That helping hand turned into a tasting frenzy and I fell in love, the original recipe uses ground pistachios but this year she taught me to do it with a twist. She actually taught my daughter Hana.
Happy reading and please do try it, it's a delicious recipe and is worth 30 minutes of your time. It may look long and complex but its not as much of a hassle as you may think it is.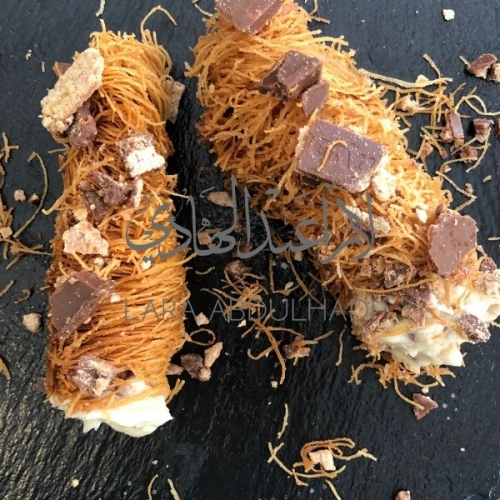 Kit Kat Knafeh
Crunchy kunafa cones filled with a mix of cream cheese, tahini, and kit kat then sprinkled more crushed kit kat. What more would you ask for?
Ingredients
1

Cup

Cream Cheese

Softened

1/4

Cup

Tahini

1/3

Cup

Powder Sugar

1/2

Cup

Crushed KitKat

Approximately 6 fingers

Butter for rubbing cones

Kuanfa Dough

Oil for Frying

Additional crushed KitKat for Garnish
Instructions
In a bowl using a hand mixer, beat cream cheese, sugar, and tahini until creamy.

Fold in crushed kitkat, and refrigerate.

Butter your pastry cones and carefully wrap the Kunafa dough around them. Seal with a glue paste made of equal amounts of flour and water (1/4 cup flour + 1/4 cup water).

Heat up some oil in a pan and carefully drop in the cones. I recommend using skewers to drop them, turn them, and take them out. Tongs would break the dough. Frying will take around 30 seconds per side. Do NOT leave unattended.

Once the dough has cooled down (this should take just a few moments) carefully remove the cones, and begin filling each tube with the delicious mixture.

Garnish with additional KIT KAT AND SERVE.
Notes
This recipe originally belongs to my friend Inaam. She makes it and it's a crowd pleaser whenever there is a gathering at her home. Thank you so much Nana for sharing with me and my family.