Classic fish and chips are one of Britain's national dishes.
While it's unlikely we get the same quality of chips (AKA fries – what we call them on our side of the world), due to the different types and limited types of potatoes, the perfect fish is not a far fetched dream.
Pickup your favorite fillet from your nearest fishmonger, and make this fool proof recipe packed with tips for the perfect fish and chips every-time.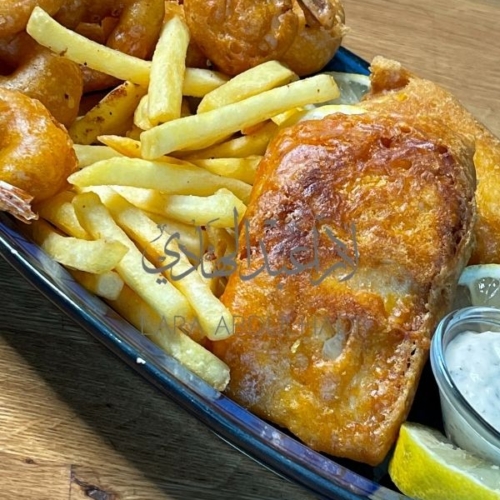 Fish, Shrimp, and Chips
Ingredients
Tartar Sauce
1/2

cup

mayonnaise

2

TBSP

diced cucumber pickles

1

TBSP

diced capers

2

TBSP

diced onions

1

TBSP

Lemon Juice
For the Fish
1

pc

Fresh Grouper

Fillet

25

pc

Medium Shrimps

1

Cup

Flour

1/2

Cup

Starch

2

TSP

Salt

2

TSP

White Pepper

2

TSP

Paprika

1

TSP

Baking Powder

1

Cup

Soda Water

1/2

Cup

Non alcoholic beer or malt beverage
Instructions
For the Tartar Sauce
Mix all tartar ingredients together and let it sit in the fridge for the flavors to blend in.
For the Fish & Shrimps
Make sure your fish and shrimps are thawed completely and pat dry before you start.

Cut your fillet into equal pieces, this is important to ensure a moist fish that cooks evenly. into even pieces.

Season the fish and shrimps with some salt and set aside.

Meanwhile, bring a sauce pan of oil to heat and start working on your batter.

In a bowl mix the flour, salt, white pepper, paprika, and baking powder.

Pour half a cup of non alcoholic beer and half a cup of soda water, I advise that you use these cold and out of the fridge. The cold liquid stops the gluten from working overtime, helping it stay light and crisp rather than thick and heavy. Mix well.

If batter is too dry, add the remaining soda water. I used the whole 1 cup for this recipe.

Now coat the fish fillets into the batter one at a time, drain excess liquid by holding it above your bowl for a few seconds and place in the hot oil.

When you place the fish, place it into the oil and away from you as not to splatter.

Drain fish and shrimps in a colander not on paper towels so the side down does not get soggy and serve next to tartar sauce.
Perfect Chips
Boil the potatoes with a few tablespoons of vinegar and let them boil for 10 minutes.

Drain them very well and let them cool down before frying.

Another way to do it would mean doing it 24 hours prior.

Cut your fries and bring to boil until tender.

Allow to cool down and place in freezer till the next day.

Flour the next day and fry.
Notes
Tips for a great dish:
The colder the batter, the puffier your crispy coating will be when it's fried.
Make sure your oil is hot enough, otherwise too much will be absorbed into the chips and batter, resulting in greasy and soggy fish and chips.
Don't overcrowd the pan when deep-frying, or the oil temperature will lower too much and the food with soak up too much oil as it tries to reheat.
If you are using the same pan for both the fries and the fish, remember that the oil will absorb the flavors of what you cook in it – cooking your chips before your fish ensures that the oil doesn't give a fishy flavor to the chips. So save time, I made my chips in an air fryer.
Why did I use the soda water and non alcoholic malt drink? It will give your batter a nicer color and the perfect crisp as it contains carbon dioxide which creates lots of satisfyingly crunchy bubbles in the batter when it hits the hot oil.