Homemade Cream of Mushroom Soup is full flavored and so easy to make, you won't buy soup in a can or a sachet ever again!
This is actually my second most common soup made in Ramadan after Lentil soup which always has a special place in my heart.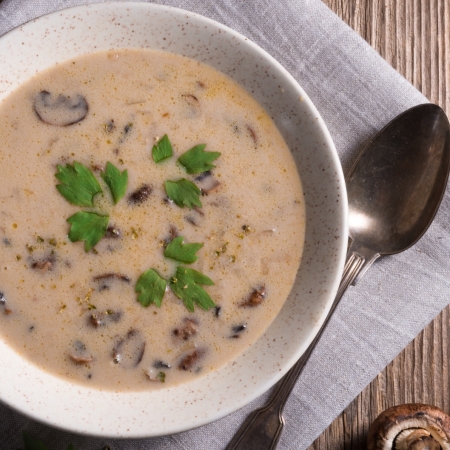 Cream of Mushroom Soup
My all time favorite! Hearty and warming soup and so good for a winter day; it has intensely earthy flavors, and is actually as good all year long.
Ingredients
Add butter

onions, and mushrooms to saucepan and sauté until onions are soft and translucent. Add 1 TBSP flour, mix, then set aside.

In

the same pot

add the chicken broth bringing it to boil, then stir in the cream, and TBSP of flour, with seasonings. Heat to thicken

In

a food processor

add the mushrooms/onion mix, and the broth/cream mix, and pulse until smooth

Return to pot

allowing to boil mixing occasionally.

Serve and garnish with croutons or parsley
Instructions
Add butter, onions, and mushrooms to saucepan and sauté until onions are soft and translucent. Add 1 TBSP flour, mix, then set aside.

In the same pot, add the chicken broth bringing it to boil, then stir in the cream, and TBSP of flour, with seasonings. Heat to thicken

In a food processor, add the mushrooms/onion mix, and the broth/cream mix, and pulse until smooth

Return to pot, allowing to boil mixing occasionally.

Serve and garnish with croutons or parsley