This easy recipe comes together with minimal effort. Let your oven do the roasting of flavors while you worry about caramelizing the onions.
Caramelizing onions, by slowly cooking them in a little olive oil until they are richly browned, is a wonderful way to pull flavor out of the simplest of ingredients.
A very important tip since I frequently receive questions about caramelizing onions.
Let cook for 30 minutes to 45 minutes, stirring every few minutes. As soon as the onions start sticking to the pan, let them stick a little and brown, but then stir them before they burn. After the first 20 to 30 minutes you may want to lower the stove temperature a little, and add a little more oil, if you find the onions are verging on burning. Don't over stir or they actually won't caramelize.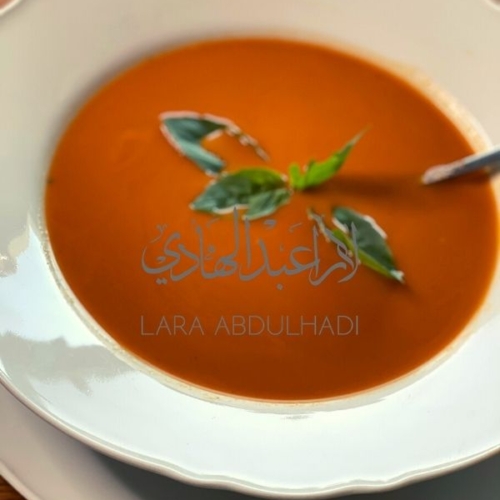 Roasted Tomato and Basil Soup
There is nothing quite like a big bowl of Roasted Tomato Basil Soup. Made with fresh tomatoes, fresh basil and caramelized onions.
Ingredients
1.5

KGs Tomatoes

approximately 8 pieces

4

Garlic Cloves

2

Onions cut thin

I use IKEAs Mandoline

Olive Oil

Salt

½

cup

fresh basil leaves

2

cups

vegetable broth
Instructions
Cut tomatoes in half and place in roasting tin.

Peel the garlic and also place it in roasting tin.

Season the tomatoes and garlic with some salt and drizzle with olive oil.

Place in oven to roast at 220 for 40 minutes. Flipping the ingredients half way through.

Cut your onions thin, I like to use IKEAS mandoline to get an even round cuts, and then cut them in half to make them into slivers.

Add some olive oil into a frying pan and add onions.

Cook for 20 minutes stirring occasionally until they caramelize.

Using a food processor or an Immersion Hand Blender, puree the roasted tomatoes and carmalized onions.

Add fresh basil leaves and puree as well.

Return ingredients to pot and add vegetable stock.

For a smooth soup run it through a sieve.

You can serve with toasted bread slices or you can add a dash of cream.
Notes