This is a quick and easy Shushbarak! I love to make it using dough that's already frozen, it can either be homemade straight out of the freezer or store bought.
You can cook this end as your rice is cooking. Serve with Basmati rice or with a mix of rice and vermicelli – at home we prefer Basmati that is cooked with a teaspoon of cardamom.
I pride myself on freezing a lot, especially sauces and homemade pasta and tortellini, but when it comes to Shushbarak I like to think that I am giving back to the local community, especially when it comes to women empowerment.
At home, we buy Shusbarak from Al Karma kitchen which works under the umbrella of the Jordan River Foundation.
My husband and I have been on tours on several of their kitchens and everything from hygiene to quality is top notch and I highly recommend it.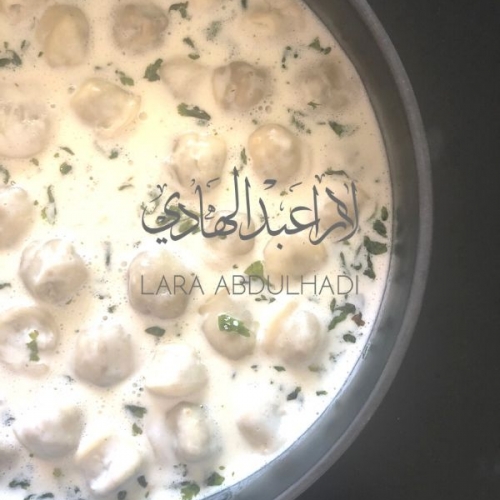 Shushkbarak Express
Ingredients
1

KG

Ewe Yogurt

1

TBSP

Corn Starch

2

Cups

Chicken Stock

1

pack

Shushbarak

I used the ones from Karma Kitchen, it has 50 pieces

1

Bunch

Coriander

2

Garlic

Cloves, crushed
Instructions
Bring some chicken stock to boil and drop the shusbarak until softened. Lift and set aside but be careful that they do not stick. Do not get rid of the excess stock/

In a sauce pan mix yogurt with corn starch using a hand blender until well incorporated. Turn on heat bring to boil.

It is important to use a stainless steel hand blender because you need to keep on blending until you see the first boil or else the yogurt will not come together.

Once the mixture boils turn off heat. Add 2/3 cup of the chicken stock and blend again.

Carefully add the shusubarak pieces and in using a wooden spoon so they don't break.

Once all pieces are in the yogurt mix, put on the heat again.

Meanwhile - cook onions and coriander in some vegetable oil until fragrant. Mix well so the garlic doesn't burn you want a nice color and flavor.

Add the garlic and coriander mix into the yogurt mix and serve as soon as it boils.
Notes