If you think of Tuscan Pasta, chicken comes to mind, maybe some garlic, and sun dried tomatoes.
When this recipe was developed I had forgotten to take chicken out of the freezer, it was a Friday, almost lunch time – and my kids were getting restless.
I opened the fridge and I saw sujuk that we love to have with scrambled eggs, and this family favorite got developed from there.
Sujuk is the Arabic word for sausages, they are thick and packed with flavor and spice like garlic, peppers, cumin, and paprika. It is made of minced beef and is dried and so it's hard and perfect for cooking with dishes to soften up.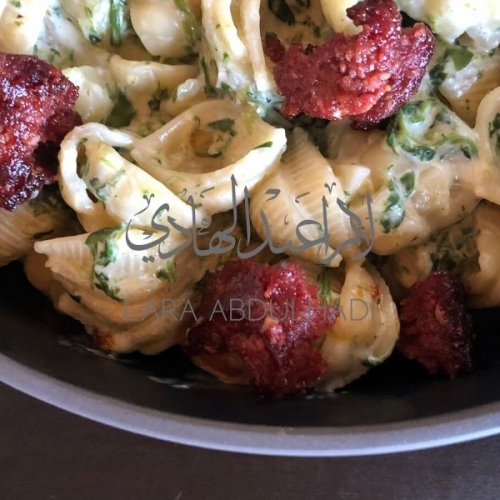 Sujuk Pasta
This creamy Tuscan inspired sausage pasta is a super easy and incredibly comforting and flavorful weeknight dinner recipe! So fast and tasty! It's made with a fragrant Arabic sujuk,
Ingredients
1

package medium shell

2

– 3 pcs Sujuk

1

package frozen spinach

2

cups

cherry tomatoes

halved

2

tablespoons

butter

Salt/Pepper to Taste

Chicken stock powder to taste

2

cups

heavy cream

room temperature

1

teaspoon

garlic powder

1

teaspoon

Italian seasoning

1/2

cup

Parmesan cheese

½

cup

Mozzarella Cheese

Salt to taste

1

teaspoon

White Pepper
Instructions
I used a wok for this recipe. Less mess. Even heat distribution, and more space to toss the final dish.

Cook your pasta shells until aldante. Drain, and toss with some olive oil and the butter so it doesn't stick. · Cut your Sujuk into round chunks, and toss in some butter until fragrant. Set aside.

Heat your wok for a minute then add the spinach until its fully melted, then add the cherry tomatoes and toss around for a minute.

Season with salt and pepper then add heavy cream gradually while you continue stirring.

Season with chicken stock garlic powder, white pepper, and Italian seasoning. Taste to ensure the seasonings are to your liking. Add more and adjust if needed.

Finally, add the Parmesan cheese and stir before adding the pasta shells and tossing to fully coat.

Before serving I like to add the Mozzarella cheese on top, and to stir until it melts.

Top with the Sujuk and serve.
Notes