This recipe is inspired by my cousin Nana.
It uses a traditional "Hello Dollies" layer, and my fudgy brownie recipe.
The brownie is baked between the biscuit layer and the magic dollie layer.
What makes it different is the final taste.
A hint of chocolate, cardamom, compliment by subtle pistachios.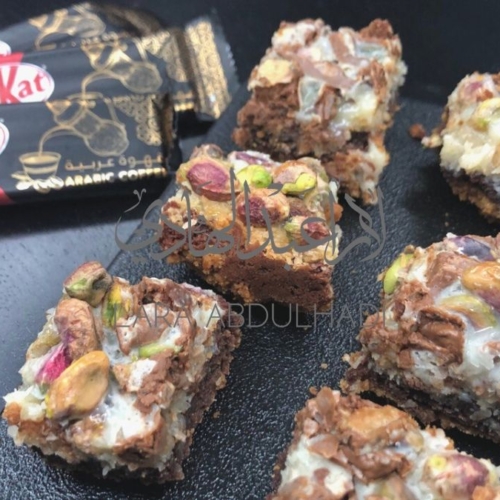 KitKat Arabic Coffee Magic Brownie Squares
This summer I collaborated with Kit Kat Arabia to bring together two unique recipes using Kit Kat Arabic Coffee, my first dessert was simple, but for my second one, I went for something magical with the help of the dessert whiz my cousin Nana. This was the result.
Ingredients
Layer 1 (Biscuit Crust)
1

stick

butter, melted

100 grams

2

cups

tea biscuits

crushed
Layer 2 (Brownie Layer)
1

stick

butter, melted

100 grams

1

cup

sugar

1

TSP

Vanilla

1/3

cup

cocoa powder

1/2

cup

flour

1/4

TSP

Baking Powder

1/4

TSP

Salt
Layer 3 (Magic)
1

cup

shredded coconut

1

cup

pistachios, whole

5

pcs

Kitkat Arabic coffee, chopped

10 fingers

1

can

Nestle sweetened condensed milk
Instructions
Prepare
Line up a 9 x 9 square inch (25 x 25 cm) oven proof dish with parchment paper.
Layer 1 (Biscuit Crust)
Melt butter and add to crushed biscuits until it's crumbly and sand-like.

Press into the bottom of your square dish firmly. You can use the bottom of a cup to apply perfect pressure to each.

Bake for 5 minutes only at 180°.
Layer 2 (Brownie Layer)
Melt butter in a sauce pan and turn off heat.

Add sugar, eggs, and vanilla. Beat together.

Add salt, baking powder, cocoa, and beat until the mixture is well incorporated.

Pour on top of biscuit layer. This

Use a clean knife to spread evenly, it's easier than a spatula, and be gentle as not to break down your biscuit layer.

Bake for 10 - 12 minutes at 180°.

Because ovens may vary the second layer needs to bake until it forms a crust but do not over bake it as there is still more baking required and it will finish baking in the third step.
Layer 2 (Magic Layer)
Once the brownies have formed a crust, cover with shredded coconut.

Add the chopped kitkats (those are approx the same size as your pistachios)

Finally, drizzle with condensed milk

Bake for 15 - 18 minutes at 180°.

You know this layer is done when the condensed milk has soaked into the bars and the edges are golden.
Serving
Make sure the brownies are 100% cooled down before attempting to cut them.

Cut into equal squares and serve.
Storage
You do not need to refrigerate those, place in an air tight container up to 1 week.
Notes