Rummaniyeh is a traditional and staple dish in many Arab homes specially Palestinian homes.
In my home we call it "Habit Rummaneh" in Arabic which translates to a pomegranate seed.
I've been told that people in Gaza call it Rummaniyeh which also has the same meaning.
Here is a delicious, vegan, vegetarian, eggplant and lentil stew as passed down to me by my mom.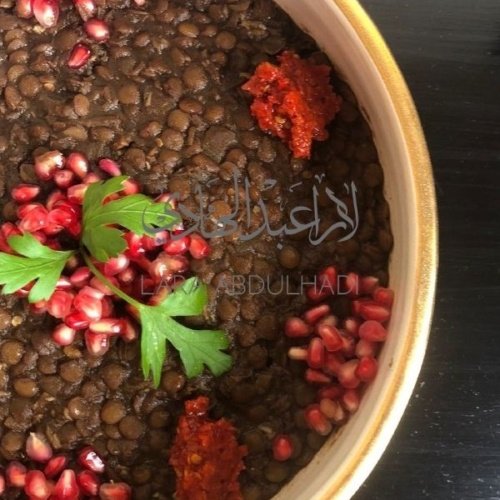 Rummaniyeh
Rummaniyeh is a staple dish in my mom's kitchen. It's very nutritious - vegetarian and packed with flavor, based on a cold serve Lentil & Aubergine Stew with Pomegranate Molasses.
Ingredients
¼

cup

olive oil

1

cup

diced onions

½

TSP

sugar

3

cups

brown Canadian lentils

washed and rinsed

Boiled water

enough to submerge cooking lentils

2

medium eggplants

peeled and cubed

½

cup

pomegranate molasses

3

TSP

Cumin

Salt to taste
For garlic sauté
¼

cup

olive oil

2

TBSP

crushed garlic

approximately 7 garlic cloves
For garnish
Pomegranate Seeds

Shatta

Chili
Instructions
In a pot, add some olive oil, let it warm up for a minute and add the onions and sugar.

Cook until translucent.

Add the brown lentils, and mix.

Add boiling water, enough to submerge your lentils. See footnotes for details if you are not using Canadian lentils.

Add the eggplants and let it cook for 15-20 minutes until the lentils are cooked through and the eggplants are tender.

Meanwhile prepare your garlic sauté by cooking the garlic in olive oil.

For me it took 7 garlic cloves to make 2 TBSP of crushed garlic and they were sautéed in ¼ cup olive oil and set aside to cool down.

Season with salt and cumin and allow the lentils to simmer until the water is boiling and has been reduced.

Add the pomegranate molasses and mix allowing it to go through one final boil.

Serve in dish of choice and allow time to completely cool down.

Garnish with shatta and pomegranate seeds.

This dish is served cold. Can be enjoyed alone or with pita bread.
Notes
Notes:
Canadian lentils are the same price as local lentils, however they cook faster.
If you were to use local lentils, you need to cook them half way through and then add the eggplants and you would need to add more water to the stew as the lentils absorb them. 
Tip:
The reason the pomegranate molasses is added towards the end is to preserve the flavor, if it boils for a long period of time, it changes consistency and flavor.