Ever since PF Changs closed down in Jordan I have been craving some Dynamite Shrimp, yes many restaurants serve it but
(1) COVID happened so I don't go out as much
(2) Dynamite Shrimps lose quality and consistency when delivered I find them soggy and unbearable
and finally…
(3) For the price of one portion delivered i can make double the portion at home, even more if I can find fresh shrimps discounted.
So long story short this is my own version of home-made dynamite shrimp, and it seems to work out just fine for our family.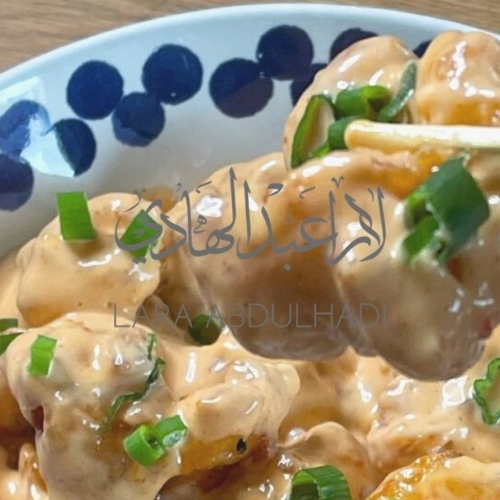 Dynamite Shrimp
Ingredients
Main Ingredients
500

s gram shrimp. Preferred to use fresh if not

make sure that frozen is fully thawed

Spring onions for garnish

Toasted sesame is optional
Sauce Ingredients
1/2

cup

mayonnaise

1/3

cup

sweet chili

2

Tablespoons

Sriracha sauce
Batter Ingredients
1

Cup

flour

more if needed

1/2

Cup

starch

or corn flour if starch is not available

1

Tablespoon

Baking Powder

1/2

TSP

Salt

330

ML

Soda Water
Instructions
Mix the mayonnaise, sweet chili, and Sriracha sauce with a whisk.

Set sauce aside for flavors to infuse.

Taste after 10 minute and then add more Sriracha sauce to increase spiciness.

Dry shrimps with paper towel so the batter can stick better.

Mix the flour, starch, salt, and baking powder.

Bring a skillet of oil to heat.

Pour the soda water into the flour mixture and whisk away. If the batter is too thin you can add flour one tablespoon at a time until you get desired consistency. It will remain transparent when you dip the shrimp, you want it to be light and crunchy.

Dip the shrimp into the batter, and then immediately move it to the oil.

Fry both sides until golden then drain in a colander to get rid of the excess oil.

Toss the fried shrimp into the sauce one batch at a time to ensure even distribution of the sauce.

Garnish with spring onions and serve.
Important Notes:
• You can use fresh or frozen shrimp, fresh is preferred. Make sure to dry your shrimps before battering.
• Let the sauce sit for at least 10 minutes for the flavors to infuse. If you taste it and you want to increase the intensity of the heat, add more Sriracha sauce.