Soft, thin crust, cooked in a very hot oven: Most Neapolitan pizzas are baked in a wood fired pizza oven. I make mine at home, it might not have the touches of a very hot oven but with a Pizza stone and the right stretching technique (See the video below) you will be able to achieve the texture at home.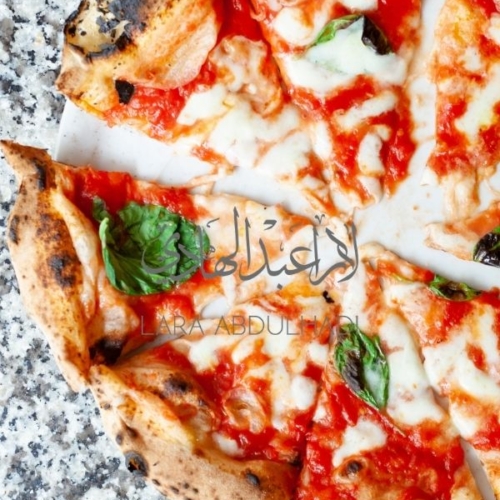 Neapolitan Pizza
This recipe is in collaboration with Juthour. You can find the ingredients available on their website and application.
https://www.juthour.com
Ingredients
For the Dough
325

ML

Warm Water

1 1/3 cup

10

grams

yeast

1 Tablespoon

5

grams

fine sea salt

1 Teaspoon

500

grams

Pivetti Organic Wholemeal bread flour from juthour
For the Pizza
Pomi Pizza Sauce from juthour

Fresh Mozzarella Cheese

Basil Leaves

Olive oil for drizzling
Instructions
For the Dough
Pour some of your warm water in a bowl and mix in the yeast. Set aside and allow to proof.

In a stand mixer, using the dough hook, mix flour and salt for a minute or two to ensure it's well incorporated.

Once the yeast has activated, add it to the flour mixture.

Gradually add the water as the dough continues to form.

Give your dough sometime if it doesn't come together add one tablespoon of water.

Dough will be sticky, that's perfectly fine. Knead by hand on a floured surface and form into a ball. The dough will be soft but non sticky after kneading by hand.

Cover and allow to double in size for 30 minutes.

After 30 minutes, punch down the dough, knead again, and divide into two pieces.

Shape into two balls and cover and allow to proof again for 30 minutes.

At this point while the dough is at it's second rise, preheat the oven at max and put the pizza stone in.
For the Pizza Topping
With the dough ready, punch it down and shape using your hands only begin to shape. I highly recommend you use baking sheets at this point to make transferring the pizza to and from the oven effortless.

The shaping of a pizza is basically done by stretching the dough into a thin, round shape by hand. This allows the bubbles to remain intact giving that perfect crunch and finish when it's baked. See video for details.

Add the tomato sauce, and drizzle with a bit of olive oil. You can add a pinch of salt at this point.

Top with fresh mozzarella cheese slices.

Bake in the oven for 6 - 8 minutes until the cheese is melted and the dough is set.
Notes