The salmon is so easy to prep and bake it will be on your dinner table in 20 minutes.
If you want to serve this dish with home-made wedges. I suggest you start with the potatoes as their prep time is a little bit more time consuming.
A quick and important note on why you will regularly see IKEA Salmon fillets inside many of the recipes you will be find on my website, is because they are ASC certified, and are individually wrapped so I can take out whatever portion I need for dinner.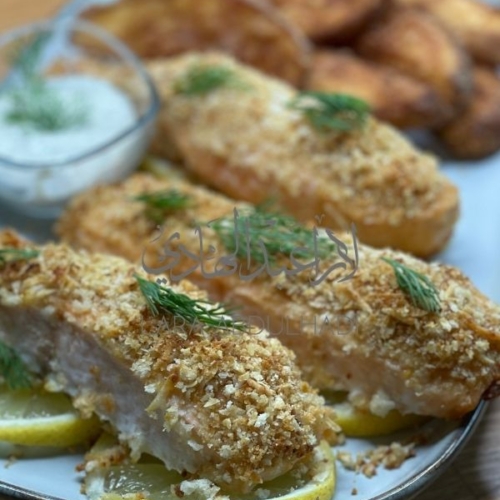 Salmon Fillet with Parmesan & Wedges
I always have salmon fillets from IKEA in my freezer. Those baked ones have a lemony kick, and a delicious crust.
Ingredients
For the Salmon
4

pcs frozen salmon fillets from IKEA

thawed

1/3

cup

panko crumbs

1/3

cup

bread crumbs

¼

cup

parmesan cheese

Zest of one lemon

2 TBSP

2

TBSP

Butter
For the Wedges
3

medium potatoes

washed well with skin on

1

Tablespoon

of Salt + Boiling Water to submerge potatoes

2

cups

flour

1

TSP

Salt

1

TSP

Garlic Powder

1

TSP

Paprika

½

TSP

White Pepper

1

cup

milk

1

egg

½

TBSP

Salt
Serve with
Lemon Sliced

Dill

Tartar Sauce
Instructions
Defrosting Salmon Properly
For this recipe I use IKEA Salmon Fillets. I love that they are individually wrapped meaning I can just take out whatever portion I need.

To thaw the salmon, fill a large bowl of cold water, place the fish in a re-sealable plastic bag (if it's not already) and submerge it.

It will take about half an hour for the salmon to defrost. Check it after 30 minutes to see how it's progressing and change out the water if it starts to become tepid.
Cooking The Salmon
Now for the fun part. Layer some parchment paper in an oven proof dish.

In a bowl, mix bread crumbs, and panko crumbs.

Mix in the zest of one lemon.

Then mix in freshly grated parmesan cheese. Set aside.

Now, brush salmon fillets with melted butter and press down the bread mixture.

Bake at 200 for 12 - 15 minutes in a preheated oven.
For the Wedges
Wash and scrub clean your potatoes. Cut each potato in half, and cut each half into 3 to 4 wedges depending on the size of your potato.

In a large bowl add the wedges, and submerge in boiling water until the water runs cold and the potatoes soften.

Drain the water and set aside.

In a bowl mix, 2 cups flour, 2 TSPS salt, 1 TSP Garlic Powder, 1 TSP Paprika, and 1/2 TSP of white pepper.

In a different bowl whisk one cup of milk with one egg, and mix in half a tablespoon of salt.

Now comes dip the potatoes into your milk mixture, followed by the flour mixture.

Repeat for all and fry until golden.
Notes
This recipe makes enough for 6 salmon fillets.  Serve with a side salad or homemade potato wedges.