Roast chicken baked in the oven with spices, onions and nuts, served on tabun bread, served with plain yogurt and olives; and eaten by hand!
Like mansaf people gather around for this dish, but I find it hearty enough to cook for my family of four.
A general rule of thumb that I learned from my mom is, for every chicken used in the recipe you will need 1 KG of diced onions.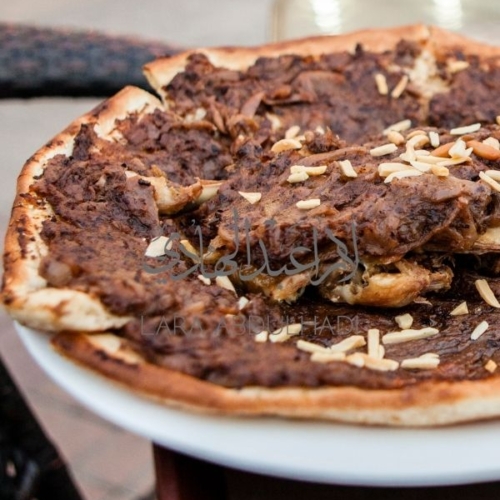 Musakhan
Every home has a special touch when it comes to Musakhan. I make it by using the traditional way but I also add some untraditional touches.
Ingredients
4

pcs Taboon Bread

1

KG

Onions, diced

6 – 8 Onions

Enough olive oil to cover onions

6

– 8 TBSP of Sumac

you need to taste and adjust
For Chicken Stock Made in Smart Pot
1

chicken

cut into four pieces

1

Onion Cut into Quarts

1

Carrot

6

pieces

cloves

6

pieces

black pepper

1

stem dill

1

stems parley
For Garnish
Slivered Almonds or Pine Nuts

Fried
Instructions
For the Onions
Dicing the onions is the most consuming part of making musakhan, but totally worth it.

In a sauce pan, add onions submerge them with olive oil, and cook for 30 - 40 minutes. Stirring occasionally.

When your onions are ready, strain from the olive oil, and save the oil for later use.

Season the onions with sumac, I start with 2 TBSPs at a time, Mix well until well incorporated and taste and adjust accordingly.
For the Chicken
I like my chicken well cooked and soft, so I make it my smart pot. It's also an opportunity to make chicken stock.

In a smart pot, choose your soup function.

Add 6 cup of water and allow to boil.

Remove all foam and impurities.

Add the aromatics for this recipe I used, onions, carrots, cloves, black pepper, dill, and parsley.

To the aromatics, you can add thyme, leeks celery. Some people like to add garlic, but I shy away from garlic because sometimes I need to save chicken stock for foods that don't require it.

Press the pressure cook function for 30 minutes and seal.

Remove the chicken and vegetables with a slotted spoon or spider ladle, and strain the stock through a fine mesh sieve.

Season the chicken with salt/pepper and keep aside for assembly.

I like to add chicken stock to my musakhan (optional and see below) If you're skipping, allow to cool and freeze for later use.
For Assembly
Layer an oven tray with parchment paper for easy clean up.

Dredge the taboon bread in the chicken stock for a few seconds and place on baking tray. This step is not traditional but I learned it from my mom, and it just adds flavor and keeps the muskahan light.

Cover the bread with the onion mixture.

Using a ladle add a touch of olive oil to each piece of bread. You can also brush it. I use half a ladle filling for 2 loafs so its just a bit.

Dip seasoned chicken into olive oil and add one piece per bread.

Place in oven until chicken is browned. Shouldn't take more than 10 minutes since the chicken is already cooked in the pressure cooker.

Garnish with fried almonds or pine nuts and serve.
Notes