I would like to think of Mante as a Main Course, but seriously we can't have enough of it, so we really think of it as an appetizer or a side dish. I love making the dough from scratch, but also learned that making it with this easy hack, is less time consuming, and almost delivers the same result.
Ingredients
1 package wonton wrappers
250 grams veal meat
1 medium onion diced
2 TBSP parsley finely chopped
Salt/Pepper to taste
30 grams melted salted butter
1 TBSP Sumac for garnish
1 TBSP Additional parsley for garnish
Sauce
150 grams yogurt
1/4 TSP Smoked Paprika
1 garlic clove crushed
Directions 
Mix meat, onion, parsley, salt, and pepper.
Shape mixture into 1/4 TSP size balls.
Once you're done shopping cut each wonton wrappers in half, place the Ball in the middle and wet sides to close each wrapper like a boat.
Rub an oven proof dish with butter then line up all mantis.
Once all are assembled in the dish – top with melted butter and bake until golden.
Meanwhile prepare yogurt mixture by mixing the yogurt, paprika, and garlic.
Serve hot and top with yogurt mixture and garnish with sumac and parsley.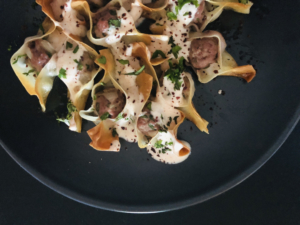 https://larahadi.com/wp-content/uploads/2019/11/Mante2.jpg
3024
4032
Lara
https://larahadi.com/wp-content/uploads/2018/03/LaraAbdulhadiLOGO-300x152.png
Lara
2019-10-08 19:36:01
2019-11-08 19:39:44
Mante Express