Kubbeh is a lost art. I mean how many people bother to make it at home when some women sell it from home and you're more likely to find it in the frozen section of the supermarket. With that said – I am into lost art especially when the techniques are passed down to me by my mother Hana.
Filling Ingredients
2 TBSP veg oil
2 medium onions finely diced
400 grams' veal meat minced
100 grams fried pine nuts
Salt/pepper to taste
1 TSP of cinnamon
1 TSP of sumac (more to taste)
Crust Ingredients
400 grams' fine bulgur, washed and drained
1 small onion cut into 4 pieces
Zest of 1 lemon
2 – 4 fresh mint leaves
Salt/pepper to taste
200 grams' veal meat
Directions
In a meat grinder (you can take this part to your local butcher if you don't have one, or use your food processor just don't over pulse), add all crust ingredients and process three times for ultimate results.
Put crust ingredients in a bowl and place in the fridge to rest for 30 minutes.
Meanwhile, add vegetable oil to a frying pan, cook onions until translucent then add the minced meat followed by salt/pepper and cinnamon.
Once the mixture is cooked through, add the pine nuts and allow it to cool down in a bowl.
When the mixture is cool, add the sumac, and mix – taste and add more sumac to your liking, just be careful as it's a very powerful spice, so add it one tsp at a time.
Divide crust dough into equal balls, and using your index finger make an indention while rolling gently to make an opening for the filling.
Add 1 TSP of filling and close the ball, cover and repeat.
Fry immediately or freeze up to one year.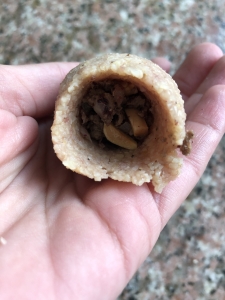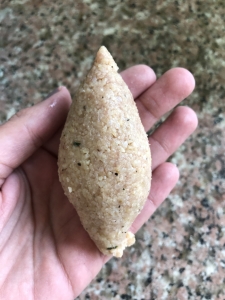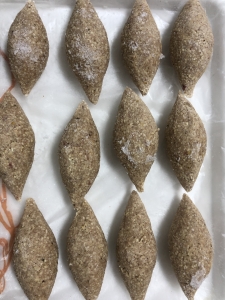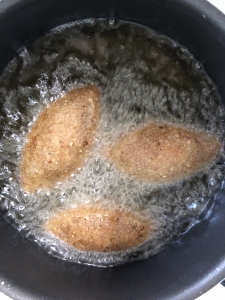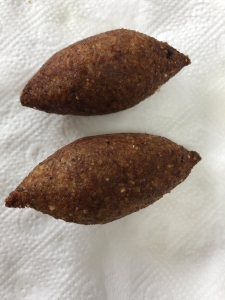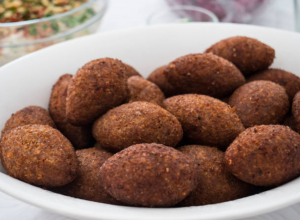 https://larahadi.com/wp-content/uploads/2019/05/KubbehbyLaraHadi.png
722
985
Lara
https://larahadi.com/wp-content/uploads/2018/03/LaraAbdulhadiLOGO-300x152.png
Lara
2019-03-15 08:11:05
2020-04-10 21:51:23
Homemade Kubbeh