There is something about a cold serve pudding that gets a nod of appreciation in the  summer. This recipe was initially based on oranges (the way mom makes it). I substituted for Qamar Al Deen (which is dry apricot to make it more Ramadani).
Qamar Al Deen is a staple ingredient durignRaamdan, and many enjoy it as a juice for iftar, and many also like making it into this sweetened irresistible pudding.
This recipe is so easy it would be ready in 20 minutes only using store-bought juice for speed.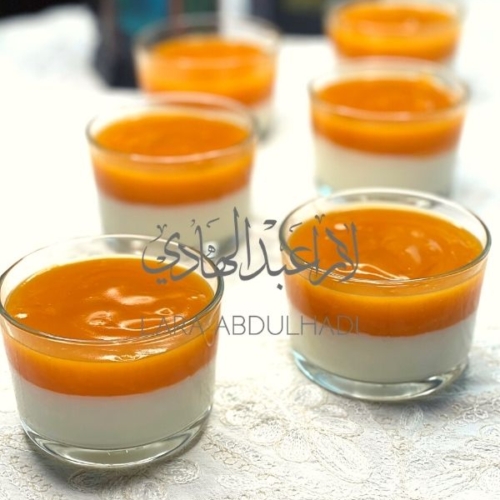 Qamar Al-Deen Pudding
A classic Middle Eastern pudding to enjoy during Ramadan!This Dry Apricot Pudding (Qamar Al-Deen) is so easy to make. I made it withstore-bought Qamar Al-Deen juice for speed.
Ingredients
For the Base
1

Liter

Milk

4

Tablespoons

Sugar

¼

Teaspoon

Powder Mastic or 3 Mastic Pods

1

Cup

Cold Milk

5

Tablespoons

Starch
For the Topping
1

Liter

Qamar Al Deen Juice

Reserve 1 Cup

4

TBSP

Starch

1

TBSP

Orange Blossom

Sugar to taste since it's store-bought and already sweetened
Instructions
For the base
Add one liter of milk to a sauce pan.

Sweeten with 4 tablespoons of sugar. You can add more to taste.

Add 1/4 tsp of mastic powder or 3 mastic pods.

Mix until sugar and mastic is dissolved.

Meanwhile mix 1 cup of cold milk with 5 TBSP of starch.

When the milk comes to its first boil add the milk/starch mixture.

Continue stirring until it thickens.

Serve in desired dish or cups. I used individual cups from IKEA (see video)
For the topping
Since it's Ramadan I used store-bought Qamar Deen juice and its naturally sweet

For this recipe you need 1 liter of Qamar Deen juice, reserve one cup, and add the rest to a sauce pan.

Sweeten the Qamar Deen juice to your liking. I only added 2 TBSP since the juice was already sweetened.

Mix the cup of reserved juice with 4 TBSPs of starch.

Once the juice bubbles, add in the reserved juice with starch.

Continue mixing and add in 1 TBSP of orange blossom for extra flavor.

Turn off heat and pour thickened juice to now cooled down milk.

Allow to sit on your counter till it comes down to room temperature.

Store in refrigerator covered with cling film until serving time.
Notes